The Orangeville and Woodbridge SDA family life departments present: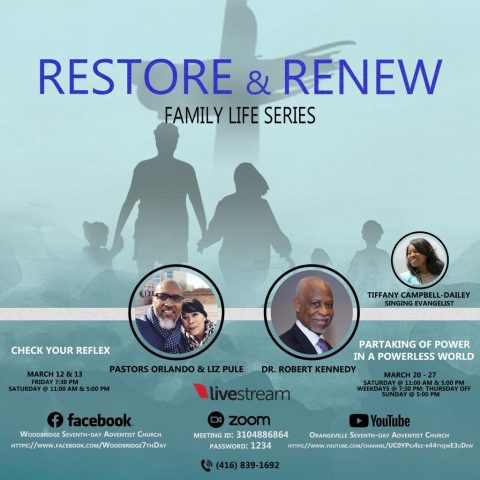 Join us as we hear from 3 dynamic speakers over the next 2 weeks. Each session will be focused on the family and will inspire us to delve into God's Word and discover how we can restore and renew our family bonds in our broken world.
Stream us on Facebook, Youtube, or join the conversation on Zoom. We look forward to having you join us!
Past Sessions: 
Friday, March 12 @7:30PM - Love Protects - Emotional Abuse in Families - Watch here
Saturday, March 13 @11:00AM - Check Your Reflexes - Watch here
Saturday,  March 13 @5:00PM - Sticky Faith: Growing Our Kids Lasting Faith - Watch here
Saturday,  March 20 @11:00AM - The Power of Spiritual Blessings - Watch here
Saturday, March 20 @5:00PM - The Power of a Grace Filled Life - Watch here
Sunday, March 21 @7:30PM - The Power of the Christian Walk - Watch here
Monday, March 22 @7:30PM - The Power of the Christian Talk - Words Matter - Watch here
Tuesday, March 23 @7:30PM - The Power of Forgiveness - Watch here
Wednesday, March 24 @7:30PM - The Power of Marital Unity - Watch here
Friday, March 26 @7:30PM - The Power Over the Principalities & Powers - Watch here
Saturday, March 27 @11:00AM - The Power of Prayer Warfare - Watch here
Saturday, March 27 @5:00PM - The Power of the Legacy of Faith - Watch here